Information for Buyers
Share With Us Your Dreams. We'll Help Turn Them Into Reality.
At Creed Noah Real Estate Company, our mission is to help you feel right at home before we find you the property you're seeking—whether you're buying a residential or rural residential home, bare land, commercial property, farm or ranch. In helping you find your new home, we are committed to our responsibility of guiding you toward a successful, informed decision on your real estate purchase in West Central Idaho.
Guidance—Every Step of the Way. Our service sets us apart. We'll help you navigate your property's unique challenges every step of the way, assisting you with the information you need to make your decision, including:
Area Information: We welcome any inquires you may have regarding schools, medical services, shopping, outdoor recreation and area attractions, local arts & culture, or anything else regarding community life.
Land Use: Here in West Central Idaho, the possibilities for land use are nearly as open as your imagination. We'll help guide you through the following:

Building permits and requirements, zoning designations, and land use possibilities
Water issues, including well drilling & water quality, septic systems, irrigation, and water rights
Income potential for commercial properties

Connections: We'll introduce you to the many excellent, local service providers with whom we've developed relationships, including:


Builders and contractors for new construction; home inspectors; excavators to help prepare your house site, driveway, and septic system; well drillers; architects; interior and landscape designers; nurserymen; and many more
Government agencies for applicable permits

Financing: Our relationships with lenders can help facilitate your financing options whatever property you have your sights set on.

Investment Possibilities? Whether you're considering a property for development, a residential home, commercial venture, or a farm or ranch as part of your portfolio, our agents are well-versed in assisting you with both short-term or long-term holdings for your real estate investments.
We enjoy assisting you every step of the way—so don't feel you need to have everything figured out before you come to us.
Interview us to see whether we're a good match for your needs.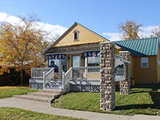 Address: 35 S. Superior
Cambridge, ID 83610

Office Hours: 9:00am-5:00pm Mon-Fri, Saturday By Appointment
Phone: (208) 257-3355
Fax: (208) 257-3855
info@creednoah.com