Information for Sellers
Choose Creed Noah Real Estate Company to Sell your property!
Local Knowledge; Global Reach
Creed Noah Real Estate Company is a full service brokerage committed to an organized and comprehensive marketing strategy. The corner stone of our online marketing is our custom web site, www.creednoah.com, which attracts thousands of visitors every month and has garnered rave reviews from across the United States and around the world for being user friendly and informative.
By virtue of our membership in the Intermountain MLS, Idaho's largest multiple listing service, all of our property listings are exposed to agents and brokerages throughout Southwest and West Central Idaho and Eastern Oregon. All of our listings are published by REALTOR.COM, the largest real estate web site in the world and which delivers a steady stream of prospective buyers to our brokerage.
Creed Noah Real Estate Company subscribes to ListHub, the nation's leading network for marketing real estate. Listhub automatically distributes our listings to over 161 real estate publishers on more than 900 websites. Our visibility and reach are global.
Our full-time professional agents serve Southwest and West Central Idaho territory for nearly 100 miles from New Plymouth to New Meadows, the area in which we are confident and know best. This is where we live! All of the agents and staff in our office have a shared vision of providing the finest customer service in the industry. It is our professional responsibility to assist and inform our clients in every aspect of the marketing and selling process.
We set our standards high by producing outstanding marketing materials. A professional marketing brochure is created for each property and provided to prospective buyers and other real estate professionals by email, mail or in person. Our brochures feature color photos, detailed written descriptions and maps all created to illustrate each property with attention to points of interest, detail and desirability.

Creed Noah Real Estate Company lists and sells a variety of properties from residential to recreational, ranches to vacant land and we have dedicated agents responsive to the variety of buyers with whom we are in contact. We value the importance of listening carefully, effectively marketing and attending to the details of every transaction. Since 1995, Creed Noah Real Estate Company has been dedicated to ever improving our professional standards and earning the confidence of our clients. That is what we endeavor to do every day.
Reputation, Responsibility, Recognition, Results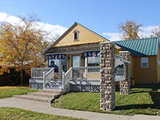 Address: 35 S. Superior
Cambridge, ID 83610

Office Hours: 9:00am-5:00pm Mon-Fri, Saturday By Appointment
Phone: (208) 257-3355
Fax: (208) 257-3855
info@creednoah.com